20 Most Promising EAM Solution Providers - 2016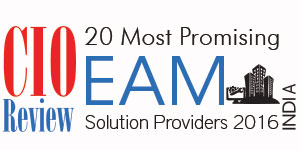 This IDC study examines the market for enterprise asset management software, which is forecast to grow at a rapid pace (at a 6.9 percent CAGR, it is expected to reach USD 2.35 billion by 2019), driven by demand for public cloud offerings and industrial Internet of Things (IIoT). The major factors fuelling the growth of EAM market are rising uptake of cloud-based solutions among organizations, maximization of return on assets, higher need for supervision of aging assets, ability of EAM to integrate with big data analytics, connectivity of various applications and operations in a single database through EAM, and mobility in asset management- to track and manage mobile assets etc.
Enterprise asset management solutions have moved rapidly to the cloud as asset-intensive organizations leverage the industrial Internet of Things to manage risk, strategy, and the performance of the equipment, fleets, and facilities critical to running their business. Increasingly, organizations are using asset-centric networks to collect network-based information — from the viewpoint of any node, application, or asset on the network — that can be used to make decisions. At the same time, rising dependence on smarter, more complex and costly assets in a digital age means that their failure can bring catastrophic consequences. This is one reason why regulatory bodies have increased the pressure on companies from all industries. Pressure comes in the form of mandated policies and procedures, compliance audits, mandatory certification, hefty penalties to the company for non-compliance, and large fines with even jail term for the individuals responsible.
Asset management software vendors have recognized this trend and have developed features and functions that can assist senior management in better managing risk. These include electronic signature, risk scoring, and document management. We understand the emerging need of Asset management software and therefore we bring to you 20 Most Promising EAM Solution Providers. Being closely scrutinized by a distinct panel of judges including CEOs, CIOs, CXO, analysts and CIOReview editorial board we believe that these companies will help organizations tackle the market pressures, demands, and trends and better manage the assets for maximum functionality and sustainability of the business.
We present to you CIOTechOutlook 20 Most Promising EAM Solution Providers - 2016.
| | |
| --- | --- |
| Ascent Intellimation | Recognized for Environment Data Monitoring Solutions, Industrial Asset Performance Monitoring Solutions and Remote Asset Performance Monitoring Solutions. |
| Autosys Engineering | Provides solutions for Automated Material Handling, Dosing System, Control & MCC Panels, Instrumentation & Telemetry and Project Management & Turnkey contracts. |
| Avid Software Solutions | A RFID systems integrator in India, the company proffers solutions like Automatic Identification & Data Capture asset management, track, trace & authentication. |
| Expenzing | Proffers solutions like Expense Management, Travel Expense Management, Procure to Pay, Invoice Management, Asset Management and Supplier Management. |
| Hofinsoft Technologies | Develops EAM Solution with Assest & Data Management Consulting and Maintenance & Material management Tools. |
| Kingshir Technologies | A Software / Asset Data Management Consultancy Services organization that offers solutions like Data Quality, Data Governance, Enterprise Data Management, Master Data Management and specialized &... |
| Mastek | Portfolio of offerings include Digital Transformation Solutions, Agile Applications Development, Business Intelligence Solutions, Legacy Modernization and Data Warehousing Solutions. |
| MCT India | Works in the Asset Management Domain with focused consulting services for company in designing, installation, configuration and integration of complex business solutions. |
| Meridium | Caters to solutions like Asset Performance Management software and services, Asset Reliability, Risk Management and Mechanical Integrity & Asset Safety. |
| MONDIAL | Embarks on delivering Enterprise Asset Management, Expense Management, Budgeting & Planning, Financial Management and Consolidated MIS Reporting. |
| Neebal Technologies | Offers Internal Intranet portals for client organisation by centralising content, collaborating and communicating with client's inhouse expertise on enterprise portals. |
| Niyati Technologies | Builds Digital Asset Management solution, Content Management System and Application Management & Migration solution across various platforms. |
| Nucleus Software | Provider of lending and transaction banking solutions which includes cash management solution that caters to Global Receivables, Global Payment, Global Liquidity and Business Internet Banking to... |
| PowerHealth Technologies | An Asset Management provider that develop solutions and services for large global Infra-sector players, the company proffers a comprehensive 360 degree assets view to clients. |
| Prumatech | Offers Asset Integrity Management, Asset Lifecycle Management, Maintenance Management Systems and Mobile Maintenance solutions. |
| Ramco Systems | Proffers EAM solution with Analytics & Reporting for Planning, Maintaining and Managing assests on cloud & mobile ready plaforms. |
| Reachwell Software | Delivers EAM solution that encompasses the complete lifecycle management of an Asset and builds a relationship between various assets. |
| SwaaS Systems | Extends a closed loop marketing platform with an Integrated SFA on the Tablet that dispalys angle right products to the Doctor,Digital Asset Management and Integrated SFA with Detailing to receive... |
| Vector Geospatial Services | A provider of solutions like ESRI GIS Utility Mapping, GIS data mapping, Photogrammetry, LiDar mapping, GIS & SAP ( EAM), Device management- Functional and SAP Fiori (Mobile solutions). |
| Vertis Microsystems LLP | An ARCHIBUS Business Partner in India proffering solutions like Occupancy Survey, GPS tracking & Enterprise Mobility and Enterprise Cloud/SaaS solution development & Asset Management services. |