20 Most Promising EAM Solution Providers - 2018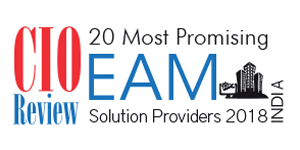 Organizations are realizing the importance of EAM in getting a complete picture of the company's assets and overall financial position. Recently, there has been a lot of investment in EAM solutions from vendors exploring new technologies and deployment models. These investments will provide new opportunities for further growth in the EAM market. The major factors fuelling the growth of EAM market are rising up-take of cloud-based solutions among organizations, maximization of return on assets, higher need for supervision of aging assets, ability of EAM to integrate with big data analytics, connectivity of various applications and operations in a single database through EAM, and mobility in asset management- to track and manage mobile assets etc.
Enterprise asset management solutions have moved rapidly to the cloud as asset-intensive organizations leverage the industrial Internet of Things to manage risk, strategy, and the performance of the equipment, fleets, and facilities critical to running their business. Increasingly, organizations are using asset-centric networks to collect network-based information - from the view-point of any node, application, or asset on the network - that can be used to make decisions. At the same time, rising dependence on smarter, more complex and costly assets in a digital age means that their failure can bring catastrophic consequences. This is one reason why regulatory bodies have increased the pressure on companies from all industries. Pressure comes in the form of mandated policies and procedures, compliance audits, mandatory certification, hefty penalties to the company for non-compliance, and large fines with even jail term for the individuals responsible.
Asset management software vendors have recognized this trend and have developed features and functions that can assist senior management in better managing risk. These include electronic signature, risk scoring, and document management. We understand the emerging need of Asset management software and therefore we bring to you 20 Most Promising EAM Solution Providers. Being closely scrutinized by a distinct panel of judges including CEOs, CIOs, CXO, analysts and CIOReview editorial board we believe that these companies will help organizations tackle the market pressures, demands, and trends and better man-age the assets for maximum functionality and sustainability of the business.
We present to you CIOTechOutlook 20 Most Promising EAM Solution Providers - 2018.
Top EAM Solution Providers
| | |
| --- | --- |
| APIPRO India | Renders computerized maintenance management system and production monitoring solution. |
| Ascent Intellimation | Specialities lie around environment data monitoring solutions, industrial asset performance monitoring solutions and remote asset monitoring solutions. |
| Assetrak Solutions | Delivers asset tracking software developed for large scale industries to track and barcoding their assets. |
| AVEVA Solutions | Provides engineering, planning & operations, asset performance, and monitoring &control solutions. |
| Compel Consultancy | Offers comprehensive solutions for asset management, preventive maintenance and inventory management. |
| Crayon Software Experts | A provider of software asset management (SAM), cloud & volume licensing and associated consulting services. |
| Expenzing Nexstep Infotech | Facilitates cloud enabled asset management software that maintains record of acquisition of assets and location. |
| Greenitco Technologies | Expertise encompasses Asset Management, Mobile App Development, IoT, SMS based devices and NFC Solutions. |
| IFS Solutions | Avails solutions around asset integrity management, asset life cycle management, computerized maintenance management and fleet & asset management. |
| Infor | Renders purpose-built asset management software and enterprise performance management. |
| Innovapptive Global Solutions | Develops mobile apps to assist asset-intensive enterprises in maintaining their mission-critical assets. |
| MCT India | Facilitates EAM implementation & customization, reporting, mobile solutions, and RFID integration with EAM. |
| Nanosoft Technologies | Offers a complete web-based computer aided facility management solution for maintenance activities. |
| QTS Solutions | The portfolio comprises asset tracking solution, employee & GPS vehicle tracking system and RFID solutions. |
| QuickFMS | A cloud-based firm offering a wide range of facilities management and space management software. |
| RCS Technologies | Avails solutions for fixed assets management and compliance management along with IT asset inventory services. |
| Rolta India | Focuses on IT solutions, Business Intelligence and Big Data Analytics, Geospatial and Engineering. |
| Spine Technologies | Enables fixed assets management software to manage depreciation accounting with maintaining AMC, warranty, insurance and service of the assets. |
| Syook | Designs solutions for real time communication with workforce, inventory management and GST compliant invoicing. |
| Tarantula | Delivers platform includes a comprehensive range of capabilities such as asset & lease management, operations & maintenance, and mobile field-force solutions. |